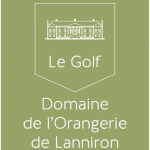 With the beauty of its landscape and its 9-hole course, the Lanniron golf course is perfect for both amateurs and experienced players!
Come show your talents in the area dedicated to practice with a chipping green, 2 putting greens, a long practice and 2 practice bunkers.
The Lanniron golf course offers an interesting and varied course. No less than 1993 metres of course accredited by the French Golf Federation with 3 PAR 4 and 6 PAR 3 to play all types of swings (wood, iron, bunker exits, …).
We organise competitions to allow players to be ranked up to Index 11.5.
Come hit the ball year round, take advantage of lessons and clinics as a beginner or to develop your golf knowledge.